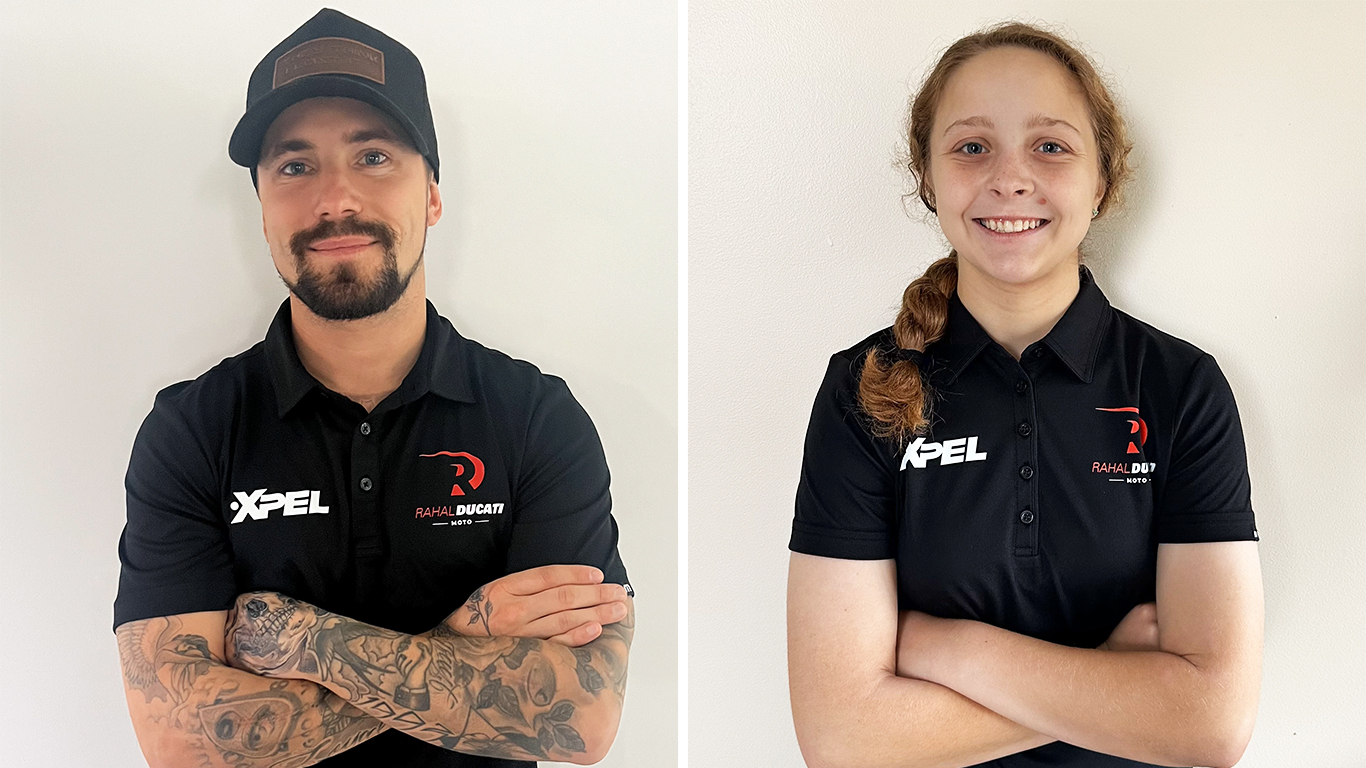 The following is from Rahal Ducati Moto…
The much-anticipated rider lineup at Rahal Ducati Moto has been finalized as the team welcomes five-time race winner PJ Jacobsen and up-and-comer Kayla Yaakov to the organization. Jacobsen will pilot the No. 15 XPEL Ducati Panigale V2 in the MotoAmerica Supersport class, alongside Yaakov on the No. 19 XPEL Ducati Panigale V2.
"We are incredibly thrilled with the rider lineup we have secured for our inaugural MotoAmerica season," said team owner Graham Rahal. "PJ [Jacobsen] has shown incredible talent in his Supersport and Superbike career. We are grateful he was willing to bring his experience to our team to help set the bar as we (attempt to) contend for a championship (in our maiden/inaugural season). Kayla is a young, talented rider, and we are excited for her to showcase her potential during her rookie Supersport season. She will have both PJ and Ben [Spies] to look to for guidance and experience as she grows in her young career.
"We have a lot of work to do in the next few months as a new team to prepare, so we are eager to get the riders to the track to test with their new mechanics and on their new machines. We have high expectations going into the season, and I truly believe we put together a lineup to achieve and exceed the standards we have set for ourselves."
PJ Jacobsen boasts a decorated Grand Prix resume having competed in several racing series around the globe, including the World Superbike Championship and World Supersport Championship. Among his accomplishments are earning the vice-champion title in the World Supersport Championship, securing a second-place finish in the Suzuka 8 Hours in 2018 and claiming second in the championship standings in the MotoAmerica Supersport class in 2019. Most recently, Jacobsen found a home in the MotoAmerica Superbike division where he finished third in the 2023 season championship. Jacobsen's experience on the track will elevate the competitiveness the Rahal Ducati Moto team will bring in its 2024 debut season.
"I'm really looking forward to being a part of the Rahal Ducati Moto racing team," said Jacobsen. "It's great to be a part of this racing family, and I think it's very good for my future to be with this amazing group of people. Having Ben Spies back is going to be absolutely awesome to help with riding and the mechanics and strategy of the motorcycle racing. When I heard about the possibility of [Rahal Ducati Moto] coming to the paddock, my eyes lit up because they run such a professional team in car racing, and they will also have a great, professional team in motorcycle racing. It's great for our sport to have people like this involved, and again, I'm very honored to get the call from them to be one of the riders to fight for wins and a championship. I'm super excited to get testing started and really, really motivated for the 2024 season – especially after having such a strong Superbike season in 2023. I feel very fit and in top-form in my career right now, and ready to fight for the top honors. Thank you to Graham and the people that truly believe in me. I'm really looking forward to a great 2024 season!"
From an early age Kayla Yaakov had the drive to race. She started racing motorcycles at the young age of four and climbed her way through the ranks. In 2022, Yaakov became the first female to win a MotoAmerica race (Ridge Motorsports Park, Round 2), which was highlighted in her third-place finish in the Junior Cup Championship that year. After that first win, Yaakov found herself standing on the top step of the podium three additional times for a total of four wins and 11 collective podiums for the season. In 2023, the 16-year-old found herself in the Twins Cup Championship, finishing seventh in the championship, despite missing the first four races due to a preseason injury. Yaakov, an inspiration for females aspiring to break into a male-dominated industry, will take on her debut MotoAmerica Supersport season for the team in 2024.
"I am extremely excited to be joining the Rahal Ducati Moto team for the 2024 MotoAmerica Supersport season," said Yaakov. "Being a part of a team with such an iconic backing is a privilege, not only with one of the most prolific motorcycle brands in the world, but also with the Rahal family. Also, having a world champion like Ben Spies in our corner is such an honor. After talking to him for several years, coming together in this team is going to be huge for my progression in this sport! Although it's a new team that comes with a lot of pressure, I am extremely confident in the abilities of the team and myself for this 2024 season. I can't wait to get rolling with this amazing crew and am thankful to everyone that has made this possible. I'll see you on the high banks of Daytona!"
The duo will begin testing their new horses early next year in preparation for the 2024 season. The MotoAmerica Supersport division will begin competition at the Daytona 200 (a non-points race) March 7-9 followed by the regular season points races at Michelin Raceway Road Atlanta (April 19-21), Barber Motorsports Park (May 17-19), Road America (May 31-June 2), Brainerd International Raceway (June 14-16), Ridge Motorsports Park (June 28-30), WeatherTech Raceway Laguna Seca (July 12-14), Mid-Ohio Sports Car Course (August 16-18), Circuit of The Americas (September 13-15) and New Jersey Motorsports Park (September 27-29).
For more information about the series or team, visit www.rahalducati.com