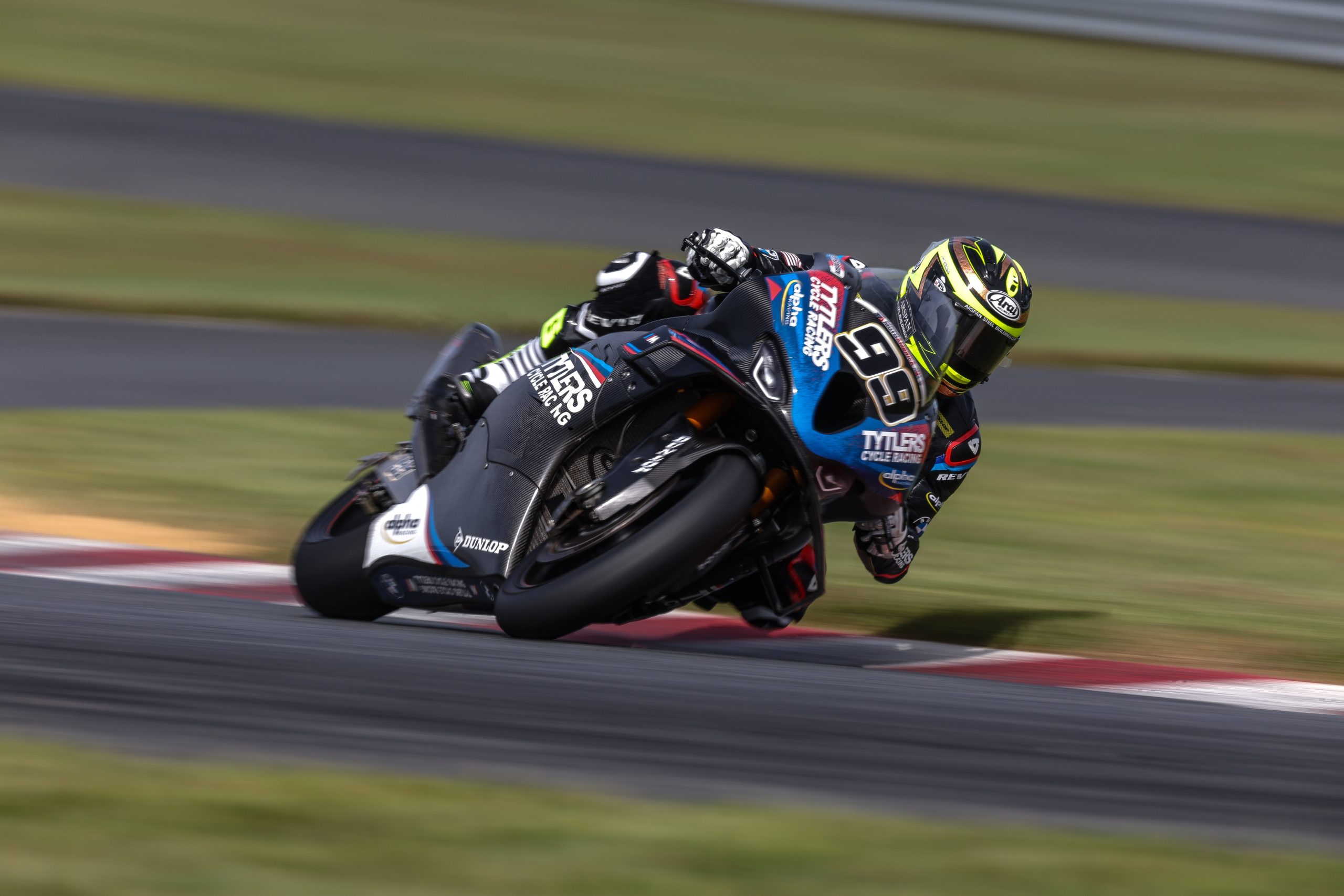 Tytlers Cycle Racing's PJ Jacobsen would very much like to end the 2023 MotoAmerica Medallia Superbike Championship on a high and he set the table for just that on Friday with provisional pole position at New Jersey Motorsports Park.
Jacobsen, who has a slight chance of finishing the season second in the championship if all goes his way in the two races, lapped at 1:20.647 on a cloudy and windy afternoon at NJMP.
Jacobsen's best was just .172 of a second quicker than Fresh N Lean Progressive Yamaha's Jake Gagne, who in turn was just a tick faster than Westby Yamaha's Mathew Scholtz.
Leading the second row provisionally was Richie Escalante, the Vision Wheel M4 ECSTAR Suzuki rider having a difficult session with two crashes. Despite the incidents that resulted in him getting just five laps, Escalante was the last rider to end on the same second as Jacobsen.
Wrench Motorcycles Bobby Fong ended Friday fifth fastest, just ahead of Warhorse HSBK Racing Ducati NYC's Josh Herrin and Fresh N Lean Progressive Yamaha's JD Beach.
Vision Wheel M4 ECSTAR Suzuki's Brandon Paasch, Tytlers Cycle Racing's Stefano Mesa and Disrupt Racing's Hayden Gillim rounded out the top 10.
Supersport – Tyler, Barely
Only .068 of a second separated provisional pole sitter Tyler Scott and his Vision Wheel M4 ECSTAR Suzuki from Disrupt Racing's Jake Lewis on Friday afternoon with the top six covered by just .310 of a second.
Scott lapped at 1:23.779 to best Lewis and his 1:23.847 and then four riders in rapid succession led by Squid Hunter Racing's Josh Hayes.
Just fractions behind came home-boy Anthony Mazziotto on his North East Cycle Outlet Racing Yamaha, leading Wrench Motorcycles' David Anthony and Vision Wheel M4 ECSTAR Suzuki's Teagg Hobbs.
Newly crowned Supersport Champion Xavi Forés ended up seventh but was thwarted by lapped traffic on the final lap of the session.
REV'IT! Twins Cup – Landers On Top
Robem Engineering's Rocco Landers is on the outside looking in as far as winning the 2023 REV'IT Twins Cup Championship goes but on Friday he showed that he's the man to beat in the two races after a lap-record-setting lap of 1:24.659.
Landers, however, will also be seeking a little help from Mother Nature to change a forecast of heavy rains to a dry day on Saturday as the California resident isn't a duck when it comes to taking to water.
Landers was a tick over a second quicker than Rodio Racing – Powered By Robem Engineering's championship leader Gus Rodio and 1.8 seconds faster than the rider who is second in the championship – N2 Racing/BobbleHead Moto's Blake Davis.
Rodio leads Davis by eight points and Landers by 14 heading into the weekend's two races.
Junior Cup – Badie Leads The Way
Badie Racing's Levi Badie earned provisional pole position for the two Junior Cup races this weekend with a lap that was just .109 of a second faster than newly crowed champion Avery Dreher with those two the only riders in the 1:30s.
Fairium NGRT – Gray Area Racing's Rossi Moor ended the day third fastest ahead of SportbikeTrackGear.com's Max Van and Team ECB/Bartcon Racing's Eli Block.
Mission King Of The Baggers – Wyman Flexes
H-D Screamin' Eagle's Kyle Wyman knows his best chance of winning the Mission King Of The Baggers Championship is to win both races at NJMP and then let the cards fall where they may. Step one was being the fastest in Q1 on Friday afternoon and he did just that, earning provisional pole with an ever so slight gap of .192 of a second over Indian Motorcycle/Progressive/Mission Foods' Tyler O'Hara.
The top five were all within a second of Kyle Wyman with championship leader Hayden Gillim third fastest on the Vance & Hines/Mission/Harley-Davidson and Kyle Wyman's teammate and brother Travis Wyman fourth.
Gillim's teammate James Rispoli, who is second in the championship heading into the two final races of the year and just two points behind Gillim, ended up fifth and .963 of a second off Kyle Wyman's best.