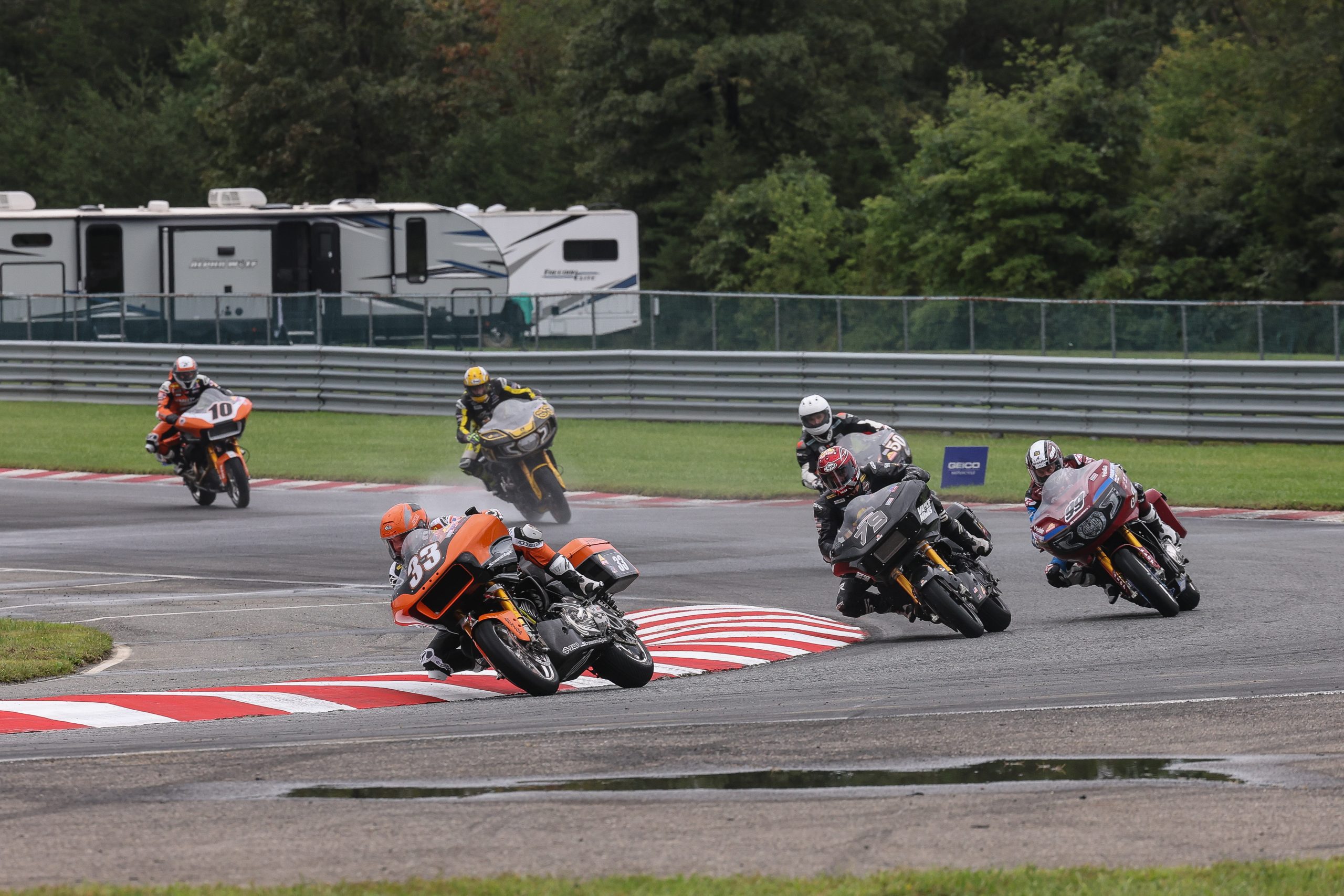 With just two season championships left to be decided on the final day of the 2023 MotoAmerica season, ironically, the Mission King Of The Baggers Championship ended in a similar fashion to how the REV'IT! Twins Cup Championship ended.
Only seven points separated Vance & Hines Mission Harley-Davidson teammates Hayden Gillim and James Rispoli going into Sunday's race two at New Jersey Motorsports Park. But the showdown never really materialized because Rispoli ran off the track while leading early in the race on the wet-but-drying track. Although Rispoli didn't crash, the off-track excursion put him well back in the pack and he ended up seventh.
That essentially handed the title to Gillim, but he still had to race, and he ultimately finished second to H-D Screamin' Eagle rider Kyle Wyman who won the race after having a miserable weekend to that point that was lowlighted by his crash in Saturday's race one that eliminated any chance of him winning the championship.
Third place went to M3/Revolution Performance Indian Challenger rider Max Flinders whose popularity as a crowd and paddock favorite was underscored by the raucous celebration he received on the podium after the race. For Flinders, it was his first career MotoAmerica podium.
"I was just like everybody, watching the weather today, trying to figure out what was going to happen," Wyman said. "I almost put slicks on for that. It probably would have been tricky. This place is just so treacherous. Finally, they're going to repave this place after this weekend so we can put this place as it exists in the past, which is great. I'm sure it's going to be an incredible venue. It's a great venue, but it will be an incredible venue when it gets repaved and all that. I tried to get a good start. I made sure I squeezed the lever in turn one with those wet spots. You just make a little mistake… I was really focused on that. It was a shame to see James go off like that. He was pushing. He wanted it. He was actually building a little bit of a gap in the first half of that first lap. I was wondering if I was going to be able to go with him. I just didn't make any mistakes. Kept it clean. We did last year. We were out of the championship. We finished with a win, just to send the message. It's obvious that we're here. It really stings coming up short two years in a row when we've won the most races both years. It's a tough pill to swallow, but I'm proud of my year. I'm proud of the race wins. I'm proud of the team. What Harley-Davidson and this whole team has done from a development standpoint that also trickles down to these guys and how they're performing. Hayden and James just refused to have a bad day this year. It seemed like every time they had issues, it was in a challenge or practice or whatever. It's really tough to win a championship against guys that are that solid. Pretty cool story with Hayden these last few weeks. He's a good guy. He deserves all that's coming to him, and the championship included. I'm also pumped for Max. Congratulations on your first podium."
Junior Cup – Block Again
It was a great weekend for Team ECB/Bartcon Racing Kawasaki's Eli Block. The Connecticut rider won both Junior Cup races at New Jersey Motorsports Park in only his second MotoAmerica race weekend this season.
Block took the victory with a gap of 2.786 seconds back to Badie Racing Kawasaki's Levi Badie, who overcame a last-lap battle with third-place finisher Yandel Medina aboard his Top Pro Motorsports Kawasaki and MonkMoto Kawasaki's Logan Monk, who ended up fourth.
"Conditions were definitely a lot different today," Block said. "I didn't get the start I had yesterday, so I passed one at a time. I think I passed Rossi (Moor)… I forgot who else I passed. Probably Max (Van) and Hayden (Schultz). So, I got up there and then I set a cruise control pace. Then I looked at my pit board. I saw I had a little bit of a gap. Then I looked back, and I saw these two just charging. I amped up the pace. I started dropping I think I dropped about five seconds from that cruise control pace. These guys were pushing me like crazy. So, props to both of these guys. We were riding here a few weeks ago and they were pushing me, and they did the same thing this weekend. So, conditions were a lot different. I don't know what these Twins Cup riders are going to do. It's really hard for them, because most of the track is dry but there's some patches out there that are really slick. So, you never know what they're going to do. I'd like to thank everyone that helped me this weekend. This was an amazing weekend. Couldn't ask for anything better."
REV'IT! Twins Cup – Davis Crowned
Going into Sunday's final REV'IT! Twins Cup race of the season, just one point separated the top two contenders for the title. Unfortunately, the showdown between defending class champion Blake Davis aboard his N2 Racing BobbleHeadMoto Yamaha and Rodio Racing – Powered by Robem Engineering Aprilia rider Gus Rodio didn't last long. Rodio lost control of his bike on the wet track and ended up out of the race.
As a result, Davis took the race win over second-place finisher Filippo Rovelli, who was The WagBar MP13 Racing Yamaha-mounted, and clinched the championship by 26 points over Rodio. Third place went to Team Iso Yamaha's Dominic Doyle.
"It was super crazy," Davis said. "The track conditions were really, really tricky. Just the red flags to add all the tension into it. I hope everyone is okay from all the red flags. This really isn't how I wanted to win it, but I kind of knew either me or Gus was going to go down. We both had to beat the other one, so we were both going to push and either win or crash."
Supersport – Hayes Ends On A High
The final Supersport race of the 2023 season gave Squid Hunter Racing Yamaha's Josh Hayes another opportunity to extend his all-time AMA race wins record. And, on a wet-but-drying track, Hayes proved he's still got it when he took the checkered flag by nearly six seconds over North East Cycle Outlet Racing Yamaha's Anthony Mazziotto.
For Hayes, it was his 88th career win and, for Mazziotto, it was the New Jerseyan's second podium of the weekend on his home track. Disrupt Racing Suzuki's Jake Lewis also had a good weekend in New Jersey, finishing third for his first podium result since filling in for injured rider Cory Ventura beginning with the Road America round in June. "This morning, Mazz kind of made me feel a bit under pressure," Hayes said. "He and I rode around together and even in Q2 when he had me to measure off of, he would go really fast. Then he'd get in front of me and a little mistake here or there. So, we were kind of playing back and forth a bit on pace and using each other to figure out where the track was good and not. So, I knew he was going to have some speed, but I know Tyler (Scott) races pretty well, even in these conditions, and he's difficult to pass. So, every pass I had to make on Tyler (Scott), I kind of had to get in there late and almost push him a little bit wide. Always try to give him some racetrack to work with. I was kind of surprised. It seemed like it stayed plus zero for such a long time, and I finally saw some gaps starting to open up. I even backed it up. I knew that the track was getting better in a few areas, so I was pushing pretty good to just roll through a few areas with more confidence. Where it was bad, I was backing things down a lot, and I was still able to kind of maintain a pretty good gap and them not come back to me. So, I just kind of tried to stay steady and just thankful. It's more relief than anything to get another race win in for the Squid Hunter team. Hopefully that's motivating for the off-season for them to want to go racing some more."