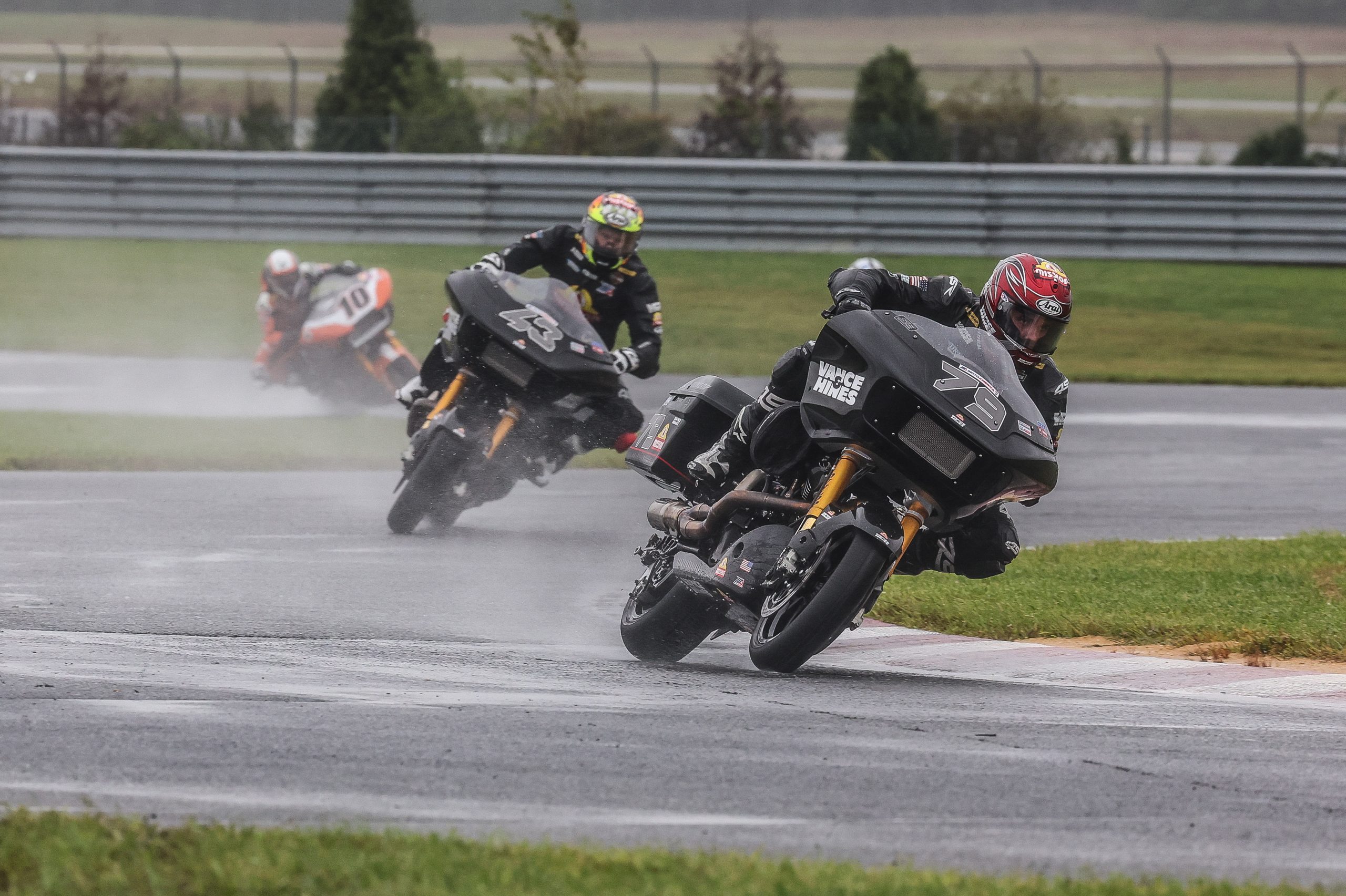 Hayden Gillim put himself in the catbird seat for Sunday's Mission King Of The Baggers season finale with the Vance & Hines/Mission/Harley-Davidson-backed Kentuckian earning a rain-sodden victory on Saturday to take a seven-point lead into the season finale.
Gilim's teammate James Rispoli kept his hopes alive by finishing second to Gillim, but the New Yorker doesn't control his own destiny. Gillim, however, does. If he wins tomorrow and Gillim finishes second, the title will go to Gillim.
Sadly, the third contender for the title – H-D Screamin' Eagle's Kyle Wyman – had a horrible day and fell out of championship contention after a warm-up lap crash and a non-finish.
Although Kyle Wyman's crash put a big damper on it, his teammate and brother Travis earned his first podium of the season after riding the second H-D Screamin' Eagle Road Glide Special to third place behind the two Vance & Hines Harleys.
Roland Sands Design/Indian Motorcycle's Kyle Ohnsorg and Sac Mile/SDI Racing/Roland Sands/Indian's Bobby Fong rounded out the top five.
"Coming into the weekend, I was just happy no matter how the weekend ended up I would be top three," Gillim said. "Now, after today, unfortunately with Kyle (Wyman) going out, it's made it where now I can't get lower than second. So, I'm enjoying it. It seemed like a foggy race, like it was just kind of happening. It just worked out. It was a weird one. I didn't really think about it much until after the race was over. The last two weekends… last Sunday I had a little baby girl and the Sunday before that I won the Stock 1000 Championship. So, I'm really hoping that we can just have a good day tomorrow and keep my nose clean. Hopefully, get another race win and bring this championship home, too."
Supersport – Scott In A Thriller
The Supersport race-one podium at New Jersey Motorsports Park had a slightly different look on Saturday with a couple of different riders joining four-time Supersport race winner Tyler Scott on the podium.
Scott took the victory aboard his Vision Wheel M4 ECSTAR Suzuki by just .206 of a second over runner-up place Anthony Mazziotto, who scored his second podium finish of the season aboard his North East Cycle Outlet Racing Yamaha.
Third place went to 16-year-old phenom Kayla Yaakov, who, in only the third Supersport race of her career, became the first female to reach the podium in a MotoAmerica Supersport race. She also recorded the fastest lap of the race during her spirited charge to the front of the pack aboard her Tytlers Cycle Racing Kawasaki.

"In the early parts of the race, I was giving it good acceleration out there," Scott said. "Then, a river formed right outside the corner, so you'd slip up once and then twice. That's probably the trickiest spot on the track and the easiest to crash, even just pushing through there. You have to worry about your front end, as well."
REV'IT Twins Cup – It All Comes Down To Tomorrow
The REV'IT! Twins Cup Championship will be decided on Sunday, the final day of the season, after the results of Saturday's race one.
Defending class champion Blake Davis won the race in dominant fashion aboard his N2 Racing/BobbleHeadMoto Yamaha, which gave him a one-point lead in the standings over Rodio Racing – Powered by Robem Engineering Aprilia's Gus Rodio, who finished third. Coming home second in the race was Team Iso Yamaha's Dominic Doyle, who notched his fourth podium result of the season and is fourth in the championship.

"Yeah, I love the rain," Davis said. "I like the rain a lot. Like Gus (Rodio), Q2 this morning was my first time on the twin in the rain. We had a whole season on it last year and just never got in the rain. Any bike I ride, I really love running in this kind of weather. I felt really comfortable. I'd love the weather to be the same tomorrow. I had a good race."
Junior Cup – New Guy On The Block
Although his 21st birthday was on Friday, Team ECB/Barton Racing's Eli Block waited until Saturday to truly celebrate his 21st birthday and he did so with a first career victory in the MotoAmerica Junior Cup series.
Block, who lives in Connecticut and races quite a bit at New Hampshire Motor Speedway, was the rain master as he stormed off to a 27.167 victory over Fernandez Racing's Jayden Fernandez. Fernandez, meanwhile, earned his second podium finish of the season by just .363 of a second ahead of MonkMoto's Logan Monk, who landed on the podium for the first time in his career. "I've been racing at Loudon since 2018, so either we have one or two rounds a year where we have rain and I've always loved it," Block said. "I've always tried having a very smooth riding style where it's really nice at Loudon because of how slick it is with all the paint strips. The Loudon Classic this year, I raced that."