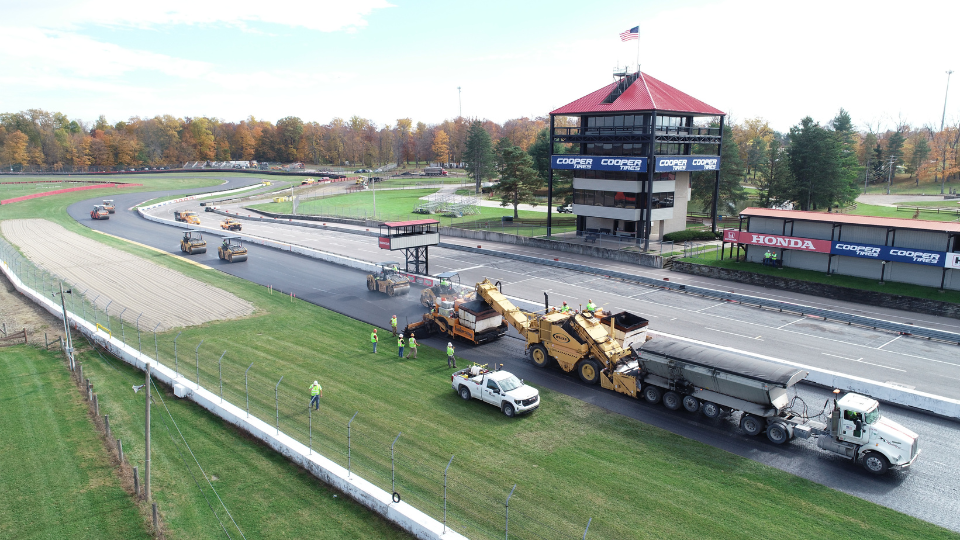 The following is from Mid-Ohio Sports Car Course…
A full repave project of the entire racing surface at Mid-Ohio Sports Car Course was completed last week, officials from Green Savoree Racing Promotions, which owns and operates the track, announced today. Ohio-based Kokosing Construction Company, Inc. began initial repair work the week of October 16, followed by milling the existing track surface on Monday, October 23, and completing the paving of the final asphalt surface layer on Friday, October 27. 
The project was a collaborative effort using the expert services of Kokosing Construction Company, Inc., Kokosing Materials, Inc. and Advanced Materials Services, LLC. Planning and thorough research for the repaving began in 2022 with a test layer placed in Turn 1 for performance evaluation of a racetrack-specific asphalt mixture during the 2023 racing season. The Mid-Ohio Sports Car Course racing surface was last repaved starting in the fall of 2005 and completed in the spring of 2006.
"We were blessed with outstanding weather last week for the crews to complete this major project in a relatively short amount of time," said Kevin Savoree, co-owner, president and chief operating officer of Green Savoree Racing Promotions. "It was a tremendous accomplishment and collaboration between Kokosing Construction, Kokosing Materials, Advanced Materials Services, and our own track operations team to make it happen. We look forward to getting race cars on it for the first time next spring!"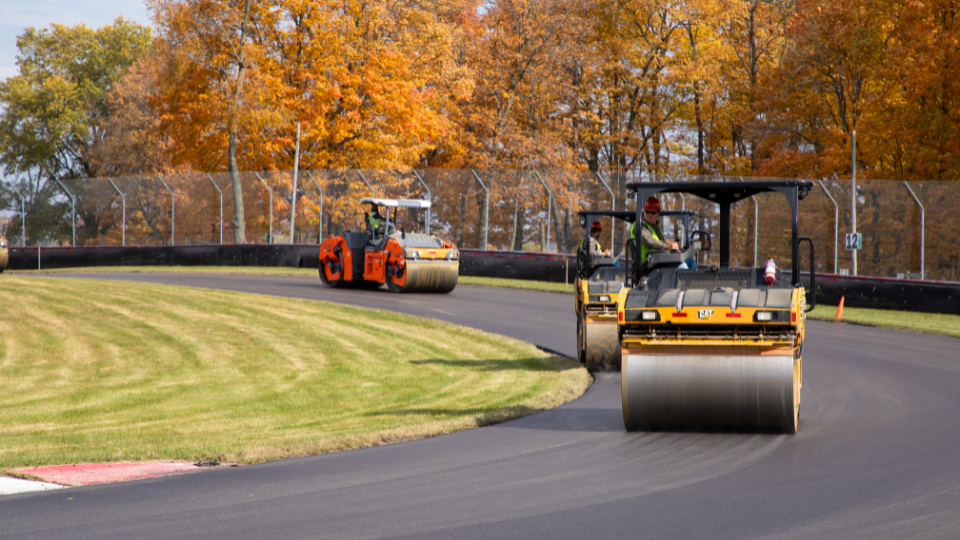 Last week's work utilized approximately 100 people, 5,000 manpower hours, 15 trucks to remove approximately 6,000 tons (300 truckloads) of old track material and 30 trucks to haul in 6,000 tons of the new asphalt mixture onto the property. The project encompassed 11,550 feet of surface paving, 3,500 feet of various turn reinforcement, 500 feet of full-depth repair in the Keyhole and Turn 12 areas, and 300 feet of transverse joint repair. 
After milling the racing surface, the second step of the process for Kokosing featured asphalt repairs and reinforcement of high-stress areas that required additional milling depth. For the final stage, two pavers placed the asphalt surface layer at a 40-foot width around the entire circuit, working in echelon (side-by-side pattern) to avoid a centerline joint throughout the track's 2.258-mile, 13-turn or 2.4-mile, 15-turn layout. The old, milled track material is being recycled and regraded to create additional paddock and parking surface areas on the Mid-Ohio property. 
"Plans for the 2023 project started in 2022, immediately after completing the resurfacing of Turn 1," said Bart Moody, vice president of asphalt estimating and engineering at Kokosing Construction Company, Inc. "Logistical challenges had to be overcome to produce the mix and perform the work with limited time and access. A full-time truck coordinator was in constant communication with material trucks to ensure they entered and exited the track at the correct locations as work progressed. Crews worked extended hours in order to maintain the schedule that made use of unseasonably warm weather for October in Ohio."
Aggregates were sourced locally in Ohio from Olen Corporation's Upper Sandusky and Fredericktown plants. Durable aggregates were selected to withstand the loading applied to the track, and a highly polymerized asphalt binder was produced by Kokosing Materials, Inc. to withstand the high temperatures and stresses. The asphalt mixture used was tested at the Kokosing Materials Asphalt Plant and at the track for a variety of properties such as asphalt content, gradation, and density. 
"The stresses on a racetrack, especially road courses with tight turns, are much higher than those typically seen on conventional asphalt pavements," said Graham Hurley, project engineer at Advanced Materials Services, LLC. "The much stiffer PG 88-22 asphalt binder used counteracts the shear stresses imparted on the track surface by race cars, which prevents any ravelling that may occur. Additionally, the specifications used for this project were much tighter than a traditional highway specification. The target minimum softening temperature for asphalt binder and the target in-place density values were both set higher than conventional specifications for vehicular traffic. Kokosing successfully met these higher conditions with ease."
The new track surface will be allowed to cure for over five months in advance of the 2024 season. The road course annually hosts a variety of locally, regionally and nationally sanctioned race events, as well the driving and riding courses provided by The Mid-Ohio School. 
The full schedule and ticket information for the 2024 major spectator events featuring IMSA, SVRA's SpeedTour, NTT INDYCAR SERIES, the American Motorcyclist Association, and MotoAmerica will be announced at a later date. Children 12 and under receive free general admission when accompanied by a ticketed adult at all Mid-Ohio events. Visit midohio.com for more information, and follow its Facebook page @MidOhioSportsCarCourse, Twitter at @Mid_Ohio or Instagram at @officialmidohio for the latest news.
About Mid-Ohio Sports Car Course:
A comprehensive motorsports facility in Lexington, Ohio, Mid-Ohio Sports Car Course sits on 380 acres and features a permanent road-racing circuit with two primary race track configurations: 2.4-mile, 15-turn or 2.258-mile, 13-turn layout. Located 60 miles north of Columbus and 75 miles south of Cleveland near Mansfield, the natural terrain road course is commonly referred to as the "Most Competitive in the U.S." and annually hosts a diversity of locally, regionally and nationally-sanctioned race events for amateur, club and professional drivers and riders. It is also home to The Mid-Ohio School, featuring over 20 driving and riding courses, for teenagers to professional racers using Honda vehicles. Opened in 1962, Mid-Ohio Sports Car Course has been owned and operated by Green Savoree Mid-Ohio, LLC since 2011, just the raceway's third private ownership group in its history.
For more information, visit midohio.com, 'like' its Facebook page @MidOhioSportsCarCourse or follow updates on Twitter@Mid_Ohio and Instagram @officialmidohio.
About Kokosing:
Kokosing is one of the largest family-owned construction companies in the Midwest and Mid-Atlantic. Known for unwavering integrity and exceptional safety and quality, Kokosing companies provide extensive resources for their customers. Kokosing's primary business lines include industrial, transportation, pipelines, water and wastewater, marine and renewable energy. Additionally, aggregates and asphalt material suppliers are part of the Kokosing family of companies.
About Advanced Materials Services LLC:
Founded in 2007 and located in Auburn, Alabama, Advanced Materials Services, LLC provides pavement engineering, testing, and consulting services. AMS supports all aspects of flexible pavement design, testing, and construction inspection, particularly for specialty pavements, such as airfields, automotive proving grounds, intermodal facilities, and racetracks. AMS staff have over 60 years of cumulative experience in the development of asphalt specifications, asphalt mixture design, quality assurance support, materials research, and geotechnical engineering. To date, AMS has provided support to over 35 racetracks across the country.