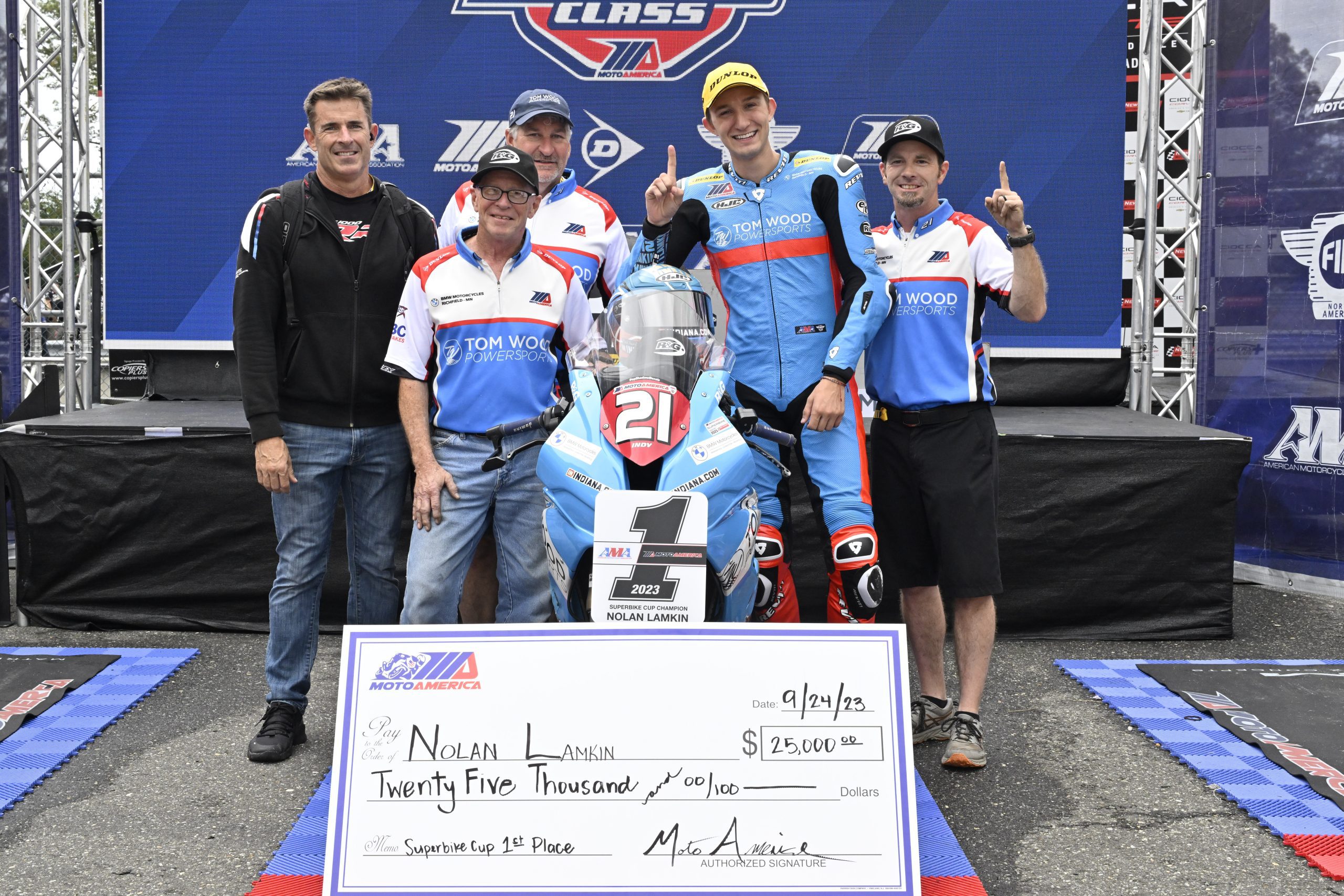 Nolan Lamkin has been a MotoAmerica road racer since the series debuted in 2015. Lamkin, whose nickname "Indy" should give you more than just a subtle hint of where he's from, began in the KTM RC Cup, then moved up to the Supersport class and, for the past two years, he's raced a Tom Wood Powersports BMW S 1000 RR in Stock 1000 and the Superbike Cup. This past season, Lamkin was the Superbike Cup Champion and was awarded the $25,000 that goes along with it.
Lamkin got paid but, like he's done so often before, he's not about to stop paying it forward. In Supersport, he was literally an open book and shared all his Yamaha YZF-R6 setup data and insights. Now, two seasons into his development of BMW's S-model literbike, Lamkin is, once again sharing his data:
In the past, I've been told that I'm crazy for giving away my race data. But, when I was younger, I always wished that I had access to data from other riders. It would have helped me understand more about the technical side of the sport and develop faster as a racer. So, if I can be that person for others, then I think that is incredibly special. I look at the data I'm giving away in this article–and all the data I gave away in the past–as helping a younger version of myself.
Last season, I raced a Tom Wood Powersports BMW S 1000 RR in two MotoAmerica classes: Stock 1000 and Superbike Cup. I ran my own privately supported team with Dustin Meador as my crew chief, Dustin's father Donny as my mechanic, and my own father Bill as they guy who did anything and everything that needed to be done to help my program. Together, we won the Superbike Cup Championship and we finished the season ranked fifth out of some 64 riders in the Stock 1000 Championship and in Stock 1000.
For the first time this season, I worked with BMW race support engineer Steve Weir, who also built my electronics maps. Steve also worked with several other riders during MotoAmerica race weekends, including Superbike rider Corey Alexander and Stock 1000 competitor Travis Wyman.
2023 was also the first time in my career that I saw my data (and what I am doing on the bike) compared with the data from other riders. In this article, I am sharing my data collected at Brainerd International Raceway, Pittsburgh International Race Complex, and New Jersey Motorsports Park. On average, at all of the tracks we returned to in 2023, we went around two seconds faster per lap compared with 2022.
CLICK HERE TO DOWNLOAD MY 2023 DATA
Brainerd International Raceway
The data above is from Stock 1000 Race 2 at BIR. I finished fourth in the race and set the second-fastest first sector and the fastest overall second sector. My highlights from the TV broadcast of this race are HERE. Pause the recording at any point and look at my data generated at that exact moment.
Pittsburgh International Race Complex
This data is from Qualifying 2 at Pitt Race, which was the final qualifying session of the weekend. In 2023, the chicane on the back straightaway changed and made that turn, and as a result, the entire sector, about one-and-a-half seconds slower overall compared with 2022. Despite that, we still went one second quicker in our overall lap time in 2023 than we did in 2022.
New Jersey Motorsports Park
Above is my data from the first Superbike Cup qualifying session of the weekend at NJMP. It rained on both Saturday and Sunday, so I wanted to include the best dry session I had, which was Q1. In this session, I qualified first out of the Superbike Cup competitors.
BMW Electronics/Data Screens
The BMW "kit" electronics homologated for the MotoAmerica Stock 1000 class use sophisticated MoTeC i2 software to "see" the data. You can set your computer screen to look exactly how you want it. In previous years, I used AiM's Race Studio 2, so I knew how to use that software, but the MoTeC software is totally different, and I had to learn things all over again. MoTeC refers to your screen setup as your "workspace."
I didn't know where to start when laying out my screens. If you have the BMW M-RCK software, you can go to the "Help" tab at the top, and it will show you examples of the different channels and how they can be laid out. That's exactly what I did. I made this information as easy as possible for you, so I have my workspace in the link with my data for you to download. That way, you don't have to sort through all the options. If I am looking at my data quickly, this is what I use.
Working with Steve Weir was fantastic. Because he was very busy, I gave him my data after each session and then would look at it myself to see if anything stuck out. That way, I could pass along the information to Steve and my crew chief Dustin. When I am looking at data, I generally look at the fork and rear shock data first to make sure we are in the ballpark with the spring rates, especially on the rear shock.
I hope this article helps other racers. I'm thankful for everything I have been able to do with my program, and I'm especially proud of the progress we made as a team this season.
Thank you to my team partners this year Tom Wood Powersports and the Indiana Destination Development Corp. (Visit Indiana). Thanks, also, to R&G Crash Protection, Westby Racing, EBC Brakes, Evol Technology, Superbike Unlimited, REV'IT! Sport USA, HJC Helmets, and PopShadow Decals.
About Visit Indiana: Planning a trip? Then you should come to the home of Hoosier Hospitality. While Indiana is famous for basketball and motorsports, there is so much more to discover than you ever could have imagined. From the deep caves in Southern Indiana to the rolling Indiana Dunes in Northern Indiana, Indiana is a diverse state full of natural and man-made marvels. Whether you love the outdoors, the arts, food, drinks, or history, Indiana has something for you.
About Tom Wood Powersports: Tom Wood Powersports (part of the Tom Wood Auto Group) is a family of dealerships in Indiana, Kentucky, and Minnesota offering the best in new and pre-owned motorcycles, as well as other powersports vehicles and complete with a staff of friendly enthusiasts who are knowledgeable sales, finance, service, parts, and customization experts. The Tom Wood dealerships carry a variety of brands including BMW motorcycles, Honda, Kawasaki, Indian, Ducati, ZERO, MV Agusta, and more.